Supercomputing·Fusion: The 2nd Global Blockchain HashCon is officially launched!
The bull market is coming, and the wet season is coming. Summer is about to usher in the busiest mining season in Sichuan.
In April, "Supercomputing · Fusion: 2021 Global Blockchain HashCon" will be held in Chengdu, Sichuan Province, which opens the prelude to the annual wet season of Chengdu, the capital of computing power.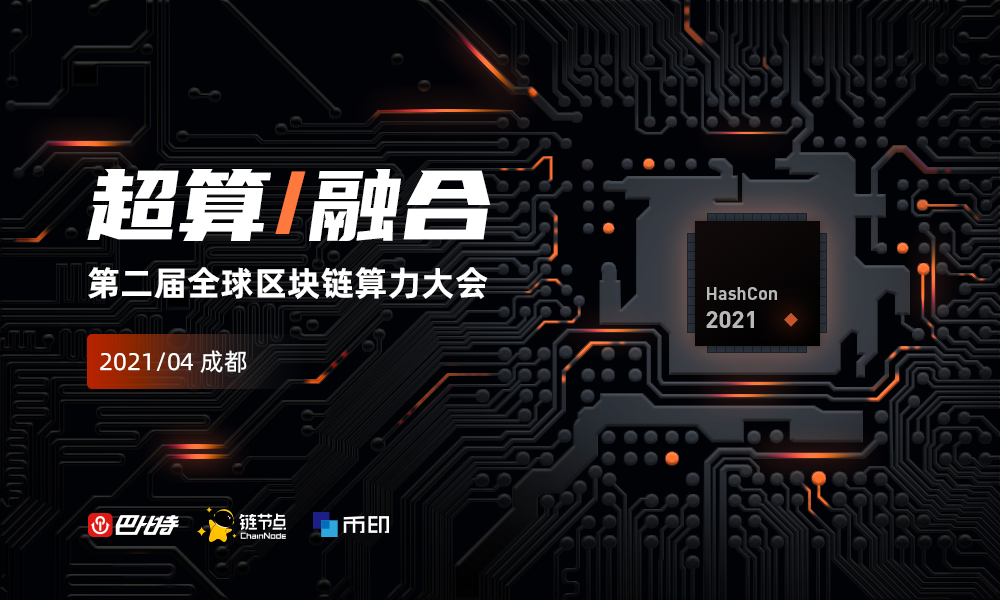 The conference is jointly hosted by 8btc, ChainNode and Poolin. This is the second computing conference since the "2020 Global Blockchain HashCon" was founded in Chengdu.
The conference will focus on key issues in the blockchain computing field in 2021, such as compliance listing, capital entry, new miners release, wet and dry season conversion, DeFi mining and so on. At the same time, the conference will also be committed to building a dialogue between the government and enterprises, and promote in-depth industry reform. In addition, the conference will also focus on new infrastructure to boost the digital economy construction of Chengdu, an innovative city, with computing power industry, and improve Chengdu's status and influence in the entire blockchain industry.
At that time, it is expected that nearly 100 blockchain industry leaders, experts, scholars and officials at home and abroad will attend the conference, and global computing industry leaders and projects will appear one by one.
Fly the new imagination of mining industry, gather the new trend of mining industry, in Chengdu, spend 48 hours to witness the new era of computing industry!
Supercomputing & fusion, the second HashCon played the strongest voice in the mining industry!
HashCon 2020 focused on "New Mining Infrastructure", while the second HashCon will focus on "supercomputing & fusion".
Computing power determines the future. In the 21st century digital navigation era, computing power will be the core infrastructure for the construction of digital economy. At present, Sichuan is not only the first supercomputing center in western China – Chengdu Supercomputing Center – Sichuan is also the core area of global Bitcoin computing power, accounting for more than 50%.
Qu Zhaoxiang, partner of 8btc and CEO of ChainNode, introduced that blockchain computing power is also super computing power. As the whole industry moves towards compliance, it will become an indispensable link in the context of "supercomputing". Supercomputing will be the focus of the whole society in 2021.
Fusion is presented in three major trends this year.
First, computing power fusion, including AI computing power, supercomputing center's computing power, cryptocurrency computing power, etc. The concept of computing power is in fusion, connotation is in extension, and the industry is expanding.
Second, industry fusion. For example, the 9th City, 500.com and other Nasdaq listed enterprises through mergers and acquisitions layout mining. And after Canaan, more Chinese mining enterprises plan to go to the United States to list, seeking the integration of capital level. As more capital flows into mining, it already goes mainstream.
Third, people fusion. 2021 PoW miners test the waters with DeFi's liquidity mining, which launches computing tokens on major trading platforms. The mining industry is becoming more diverse.
Focusing on the industry opportunities of China's supercomputing development and grasping the historical trend of industry fusion will be the main melody of mining industry development in 2021.
In April, come and gather with global mining and computing industry practitioners in Chengdu to grasp industry trends and explore industry opportunities at HashCon 2021.
Six highlights are unlocked in advance to build the future of the industry in Chengdu
HashCon 2021 will last 48 hours, at that time, the focus of the whole industry will converge in Chengdu. What are the highlights of the conference? We have summarized the following six aspects.
1. Government-enterprise dialogue, grasp the frontier trend of new infrastructure;
2. Wet and dry season conversion, on-site resources with one-stop connection;
3. Listed companies, top scholars, capitals gathered in Chengdu, looking for compliance listing path;
4. Supercomputing chips, hardcore mining machines, new wallets, debuts of blockbuster products;
5. DeFi scientists come to the scene to reveal whales' new gameplay;
6. The new infrastructure expo provides a 48-hour bird 's-eye view of the industry.
Qu said that computing power is a good entry point for the blockchain world to link traditional capital, and also a ticket for traditional capital to access the blockchain world.
"HashCon 2021 is held in Chengdu, with the aim of providing professional services for practitioners to connect with industry resources and provide a dialogue bridge between enterprises and local governments. In this conference, 8btc is actively planning to lead the establishment of Chengdu Supercomputing Industry Alliance, to work with Chengdu to create a national model of industrial blockchain application, and promote the real implementation of computing power industry."
Yang Jianguo, CEO of Poolin Finance, said that 2021 is a year of scale, computing power will be more and more concentrated, machine procurement, custody, operation and so on will be more concentrated, and there will even be large institutions buying computing power.
"The wet and dry season conversion sees layout once again, information and capital fusion to help with the new journey. Hope to continue the consistent style of Poolin, with 8btc together to build a good platform, so that we can achieve better win-win cooperation."
See you in Chengdu in April
In August 2020, HashCon 2020 and New Infrastructure Mining Summit was held in Chengdu. The number of attendees registered in one day is more than 2,000, and the total number of receptions in two days is more than 5,000.
It was HashCon 2020, within and outside the circle, as well as government officials, that everyone saw the prospect of a booming computing power industry in Chengdu.
"I have attended so many mining conferences. It is the first time that I have seen a major government leader attend and make a speech. I am really excited and will come again next year," said a veteran miner.
A year of appointment comes as expected. "2021 Global Blockchain HashCon" will undoubtedly set off the wave of Chengdu blockchain again.
Looking back, the evolution of computing industry is obvious to all, from "mining circle" to "mining industry", from Bitcoin computing to computing industry system, from simple mining to building the infrastructure of the digital economy.
Mining in 2021 will undoubtedly be more exciting! Let us meet in Chengdu!
Sign up to HashCon 2021: http://hdxu.cn/F1q52
Business cooperation: business@8btc.com