PBOC Launch on-site inspections on China's Major Exchanges
11th January 2017, 4:47 pm, Beijing time, China's PBOC issued another announcement that PBOC and Financial Office of Beijing and Shanghai have jointly began to carry out on-site inspections on China's major exchanges including BTCC, Okcoin and Huobi respectively.
The announcement of PBOC Beijing reads:
In accordance of the Notice of the State Council on Risk Prevention of Internet Finance and other related laws and regulations, PBOC Beijing together with Financial Office of Beijing have entered Huobi and Okcoin to carry out field inspection from 11th January 2017. The purpose is to examine whether exchanges'  trading of Bitcoin and Litecoin comply with  laws and regulations including Anti-money laundry law and regulations on foreign exchanges and platforms.
The announcement of PBOC Shanghai reads: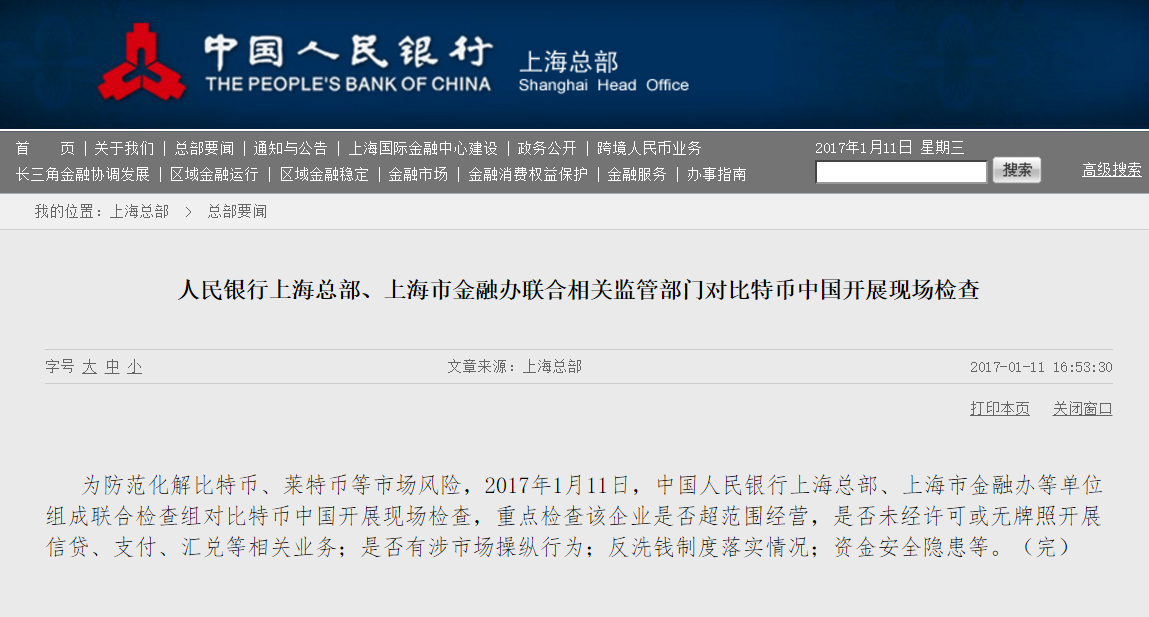 To prevent and lower the risk of Bitcoin and Litecoin trading market, PBOC shanghai and Financial Office of Shanghai have jointly carried out on-site inspections on BTCC. The main focuses it to examine whether BTCC 1)operates outside its statutory scope, carry out loans, payment and foreign exchange businesses,  2)  manipulates market 3) complys with anti-money laundry law 4) has loopholes of funds security
This is the another confirmed move by PBOC to further figure out the current status like anti-money law compliance, foreign exchange regulation compliance of the exchanges several days after it inquired their CEOs.
Again, the news should not be misinterpreted as a ban on Bitcoin in China or a raid in China's exchanges. It is a strong signal that China's government wants to regulate the market. The volatility of Bitcoin price in the past month and China's sheer share in global total trading volume have compelled PBOC to step in to guarantee the financial stability, which is the paramount mission of China. Like we have analyzed in our article Analysis: PBOC's Possible Stepping in as a Third-party Custodian for Bitcoin Exchanges is Good news, PBOC's move is no different with its efforts in regulating stock exchanges and futures exchanges.
In 2015, China Stock Commission began to deleverage and oversight futures exchanges, in an attempt to deter the speculation. Now to set up futures exchanges must obtain the approval from the State Council and leveraging rate is under the oversight of China Stock Commission. Now all the four approved major futures exchanges in China are operating normally.
At the press time, all three exchanges are also running without troubles. A staff from Huobi wishing to remain anonymous told 8btc that the exchange is just actively collaborating with PBOC for the examination.
Bitcoin exchanges are indeed "grey areas" in China. PBOC sure understands the lesson of the downfall of Mt. Gox which resulting in losses of Bitcoin equaling 450 million USD. The fact the there are many so-called digital currency platforms are proved Pyramid schemes only strengthens the need to regulate the Bitcoin trading market.
Besides, the three major exchanges are all criticized for faking trading volume and providing too much leveraging. Huobi has been complained for its frequent system failure at peak time when there is great need to withdraw. Thus the possibility that the three exchanges might be fined or even suspended until they comply with all laws and regulations cannot be excluded. Hence, if POBC is just to regulate Bitcoin market, these moves should be welcomed.