Bitcoin Is On Another Bull Run, But This One Is Different
Bitcoin hodlers are having themselves a day, and they have PayPal to thank for it, it seems.
The price of Bitcoin shot up today by 8% following the news that PayPal will add crypto buying and selling features to its payments platform. Bitcoin is now trading solidly above $12,000, a price point that it recently breached last night. Its gained another $300 to its price since this morning and is now trading at its highest price since June 2019.
Bitcoin has only ever held above $12,500 for an extended period of time way back
Today, at a price of $12,800, Bitcoin is challenging that price line for the third time. And it's being aided, evidently, by PayPal's decision to enable the buying and selling of crypto.
Today's spike amounts to nearly 3X growth, approximately 275%, from the yearly bottom of $4,644 reached during the infamous Black Thursday crash on March 12, 2020, which itself was brought on by a coronavirus-induced market panic.
This current rally, however, is unlike any other in Bitcoin's still relatively short history.
in 2017. That was during the run-up to the ICO-fueled crypto bubble that peaked with Bitcoin reaching nearly $20,000 per coin.
Since then, and following the crypto crash of 2018, Bitcoin has only reached $12,500 twice—in June and July of 2019—but could not overcome that resistance at the time to continue on its bullish trend.
While previous bull runs (especially 2017 and early 2019) looked parabolic, the recent price trend that started in March is much more predictable and much less volatile. This could point to a more natural behavior in general terms with traders less dependent on hype or breaking news that only have a short-term effect. This new bull run arguably demonstrates a much healthier growth pattern.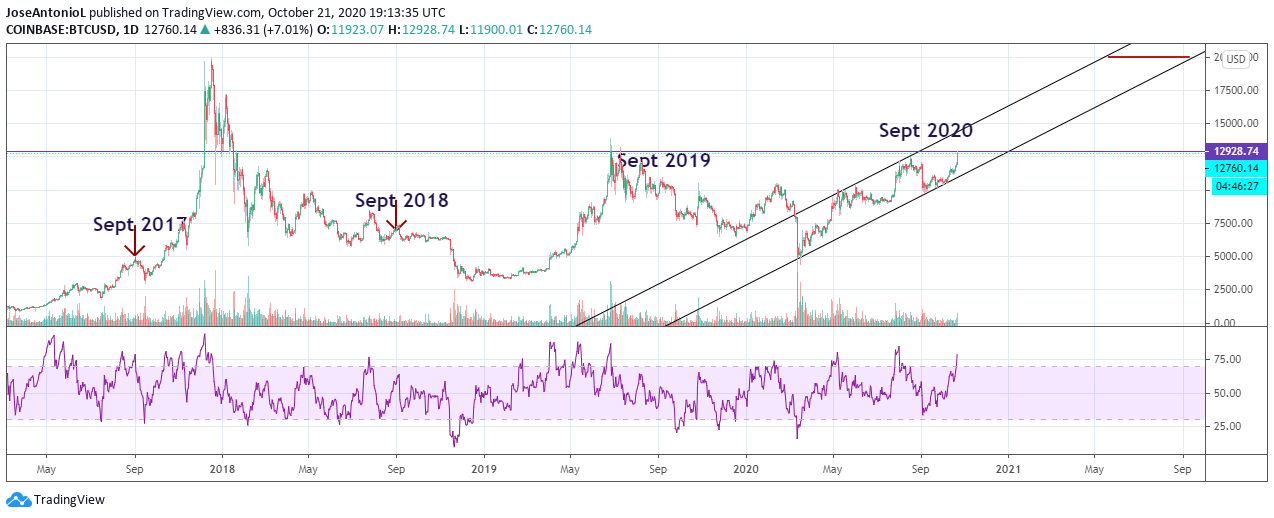 In fact, traders today appear to be taking the big news in stride, rather than overreacting one way or the other. The Crypto Fear and Greed Index, developed by software development platform Alternative.me, shows that traders are currently in a "neutral to slightly bullish mood" with a score well below the hype levels registered even earlier this same year.
If the trend persists, though, it may not be too long before Bitcoin reaches another all-time high.